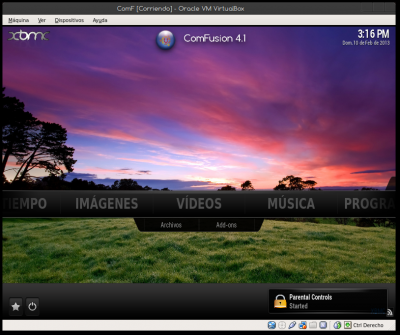 Actualiza tu Post-Comfusion a la 1.4 y podras tener nuevos programas con 1 clic, te los relatamos a continuación;
(Links al final del Post)
Upgrade your Post-Comfusion to 1.4 and you will have new programs with one click, we tell you the following;

( Links at the end of the post)
* Debreate, es la forma más fácil de crear instaladores DEB para ComFusion, Debian, Ubuntu y derivados.
* Debreate, is the easiest way to create installers deb for ComFusion, Debian, Ubuntu, and derivatives.
* Gmtp y soporte Mtp para sus dispositivos android, (tablets & telefonos), transferencia de archivos fácil y rápida.
* Gmtp and support Mtp for your android devices (phones & tablets), transfer files quickly and easily.
* XBMC "Frodo", con repositorios para adultos, control parental y plugins, (películas a la carta, televisión a la carta y myWeb TV) incluido.
* XBMC "Frodo", with Adult repositorys, parental control & plugins; (movies on demand, TV on demand and TV myweb) included.
* Musique es un reproductor de música que enriquecerá su experiencia de escuchar música con una interfaz limpia e innovadora.
* Musique, is a music player which enrich your music listening experience with a clean and innovative interface .
* Minitube, un cliente nativo de Youtube para Linux, Windows y Mac OS X que se puede utilizar para reproducir (y descargar) los vídeos de YouTube sin Flash.
* Minitube, a native Youtube client for Linux, Windows and Mac OS X which you can use to play (and download) YouTube videos without Flash .
Link to Post-ComFusion 1.4 ;
Un saludo, Regards ;
Marco A. Pollolinux